The Denver New Year's Eve Black Tie Party 2015
Dream Entertainment Group is excited to present the most upscale all you can drink New Years Eve experience in downtown Denver.
1,000 of Colorado's socialites will unite to bring 2015 in with class and style at The Denver New Year's Eve Black Tie Party inside of the historic Sherman St. Event Center. The exquisite Sherman St. Event center located at 1770 Sherman St and built in 1906 is an architectural masterpiece and a Denver landmark. The Grand Ballroom is listed on both the National and Colorado Registry of Historic Places.

We will celebrate the New Year with great live music, multiple DJ's, casino games, confetti blast and a champagne toast. This event has sold out for the past 3 years and is guaranteed to sell out again this year.
CBS NAMES US ONE OF DENVER'S BEST NYE PARTIES
http://denver.cbslocal.com/top-lists/top-2015-new-years-eve-parties-in-denver/
ALL YOU CAN DRINK VIP NEW YEARS EVE CELEBRATION  Downtown Denver, Colorado

Your Black Tie NYE Ticket will include access to multiple premier open bars all night including:
Spirits- Absolute Vodka, Tanqueray Gin, Bacardi Rum, Jack Daniels Bourbon, and Johnny Walker Red.
Wine- Cabernet Sauvignon, Merlot, Chardonnay, and Pinot Grigio
Beer- regular, light, microbrew, and import
Champagne Toast at Midnight
Soft Drinks

Denver's best all you can drink upscale NYE party experience.
Open Bar All Night
Access to the Grand Ballroom, Mezzanine and Viggio Theatre.
Live Band, 3 DJ's, Casino Games, Photo Booth
Champagne Toast and Confetti Blast at Midnight
Complimentary Party Favors

Bring in New Years Eve 2015 with non stop excitement on every floor and a variety of entertainment.
Special Guest DJ from New York City DJ 81 Neutronz, DJ Topshelf, DJ Spyda Tek and DJ SD
Live Music from The Last Chapter
A variety of Vegas Style Casino Games
Photo Booth with complimentary photo prints
Confetti Blast

Are you felling lucky? Play Las Vegas style casino games for a chance to win prizes.
Professional dealers
Blackjack
Roulette
Craps
Free to play
GRAND BALLROOM
The Byzantine themed Grand Ballroom features a beautiful wraparound mezzanine. The ballroom will feature the main dance floor, 3 DJ's, multiple bars, casino games and a photo booth. DJ 81 Neutronz will provide the Electronic Dance Music. DJ SD will be playing the best of Top 40, Dance/Pop & Hip-Hop/Soul from the 80's and 90's and DJ Topshelf will be spinning the hottest Top 40, Dance/Pop & Hip-Hop/Soul of today. You can find two full sized bars, scattered seating and a great view from the wraparound Mezzanine of the Grand Ballroom.

Guests will be able to choose from multiple Las Vegas style casino games including Blackjack, Roulette and Craps with professional dealers. All of these games will be provided at no additional cost and the top 3 players will receive prizes.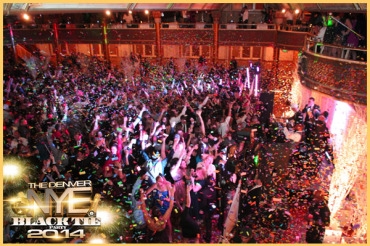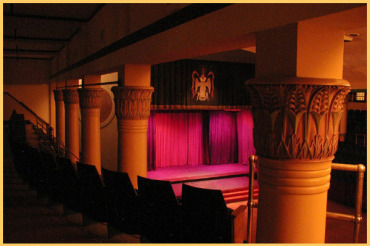 VIGGIO THEATRE
Viggio Theatre is for the Live Music lovers. Live music entertainment will be provided by The Last Chapter, one of Denver's top cover bands. The band will be covering Funk, Soul, R&B and Top 40 music from your favorite artists to keep you dancing all night. DJ SD will also be featured in the Viggio Theatre keeping the crowd moving in between live sets from the band. The theatre will also feature scattered seating and a full premium bar.
DOORS
Doors open at 8pm
CHECK IN
Must have a valid photo ID and ticket to check in. This event is 21+
COAT CHECK
Located on the main floor next to the check in area. $5 per item.
OPEN BAR ALL NIGHT
Open bar from 8pm-1:45am
Open Bar includes: Beer, Wine, Martinis, Margaritas, Absolut Vodka, Skyy Vodka, Jack Daniels, Jim Beam, Captain Morgans, Bacardi, JW Red, Hornitos , Sauza Gold, Chardonnay , Moscato, Shiraz, Red Zinfandel, Corona, Tecate, Coors Light, Fat Tire, Sierra Nevada IPA
MUSIC
The live bands will perform original and cover songs. The DJ's will be spinning the best of Top 40, Dance Pop,Hip-Hop/Soul.
TICKETS
Tickets will not be sold at the door. Pre sale only. No refunds available.
PARKING
Parking will be available in the Wells Fargo Parking garage directly across from Sherman St. Event Center and in surrounding parking lots.
DRESS CODE
Formal wear is encouraged but not mandatory. Please dress with class and style. Black Tie is encouraged but not required. Tuxedo is optional.
SEATING
There is limited scattered seating on the Grand Ballroom Mezzanine and in the Viggio Theatre.
ATM MACHINES
Nearest ATM is located at the Wells Fargo bank, one block from the venue.