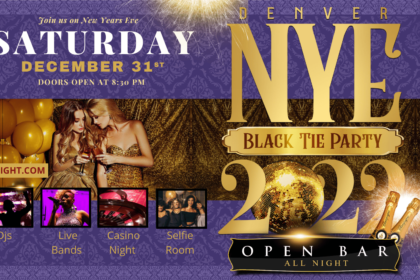 View Calendar
Denver's Best New Year's Eve 2022 to 2023 Celebration

Ring in the new year  2023 in style at Denver New Year's Eve 2023 Black Tie Party.
Denver New Years Eve 2022 - 2023
Enjoy New Year's Eve with an open bar all night and live music from an incredible local cover band. Top live DJ's spinning top 40's, EDM, Old school Hip Hop, R&B and all your classics. The second floor of this open venue will have casino games and prizes for the top chip holder. Say cheese at the complimentary photo booth or get the perfect selfie in our custom Selfie Room designed to take some epic photos on this epic NYE 2022 night!
Denver New Years Event Tickets
buy tickets here: https://www.eventbrite.com/e/denver-new-years-eve-black-tie-party-2022-2023-tickets-440616254077
When the clock strikes midnight there will be a giant 2000 balloon drop on the main floor. Nye party favors will be supplied (while they last). Grab your friends because discounted group New Year's Eve tickets will be available. Make NYE 2023  a night to remember!
New Year's Eve Denver Party Location
This year's NYE party venue is in Denver, next door to Meow Wolf, just minutes from 16th street and the New Years Fireworks. The Denver NYE Black Tie Party will provide professional sound, lights and décor that will accentuate the grandeur of Denver's most exquisite New Year's Eve experience.
New Years Party Entertainment Details
https://youtu.be/Z7aMGwIJrI4?list=TLGGZebHL3SphM0zMDEyMjAyMg
The Denver new years eve 2022 NYE Black Tie Party features an incredible live nye concert , top-tier headlining DJ's, Vegas-style casino games, and a champagne toast. Starting at 8:30 pm. guests will have access to three rooms with multiple all-inclusive open bars serving liquor, beer and wine serviced by 30+ swift bar staff. n
New Years Eve Party Open Bar
The Denver New Years Eve Black Party features the longest OPEN BAR in Denver with 5 ½ hours of unlimited drinks. This year there is a limited amount of 1,000 tickets available making this one of the most exclusive New Years' Eve 2022-2023 events in Denver, Colorado.
New Years Eve Hotel Packages Denver
New Years Eve Events colorado NYE Black Tie has partnered with Curtis and Hilton hotels and blocked off discounted rooms so take advantage of the opportunity to enjoy an overnight stay at one of Denver's top-rated premier hotels.
Where should I go for New Years Eve in Denver?
The 15th Annual Denver NYE Black Tie Party - Dec 31st 2022 at 8 p.m.
Where can I watch New Year's fireworks in Denver?
Downtown Denver on the 16th street mall
Where is the biggest New Year's Eve party?
Denver NYE Black Tie Party - Dec 31st 2022 at 8 p.m.
Denver New Years Eve Black Tie Party 2022 - Open Bar VIP Party

Denver New Year's Eve Black Party is the best upscale 2022 - 2023 NYE Denver parties happening in Denver, CO this 2023 New Year! Open Bar with Food Options
Event Type: Event
Event Attendance Mode: OfflineEventAttendanceMode
Event Status: EventScheduled
Performer: Organization
Performer Name: Denver New Years Eve Entertainment
Performer URL: https://newyearsevenight.com/entertainment/
Start Date: 2023-01-01 03:00
End Date: 2023-01-01 09:00
Ticket URL: https://newyearsevenight.com
Entry Price: 140
Currency: USD
Availability: InStock
Availability Starts: 2022-12-31T20:00:00
Pros
Live Music
Open Bar
DJ's
Confetti Blast
Balloon Drop
Photo Booth
Selfee Room
Black Tie Attire